PHANTAZM - AMPLIFIER/PROCESSOR RACK
Amp Rack wiring in progress -
Taken about mid way through the wiring process. All wiring, terminals, fuse and distribution blocks, circuit breakers, 1.2F caps, and other accessories are Phoenix Gold.
Amp Rack ready for amp installation -
Taken after wiring completed (R2-D2 threw up.) Originally, three Interstate SRM-4D Deep Cycle Batteries (their largest model) were positioned under the sub enclosure behind the rack. I more recently have replaced those batteries with three Stinger Dry Cell Power Master SPB-1000 Batteries.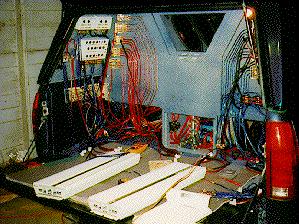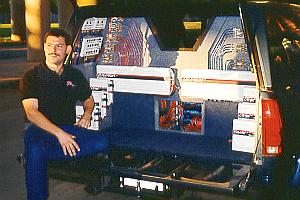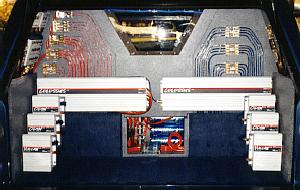 Amp Rack Completed -
Picture taken on the day of completion at the 1994 IASCA Finals in Dallas, Texas during a photo shoot with Car Audio and Electronics magazine. I finished the system at 3:00am the day this picture was taken. That was a LONG day!
Return to PHANTAZM's Home Page
WebMaster: Jason Lee Davis KB5YBP | E-mail: Jason_Davis@tamu-commerce.edu | Site hosted by: TAMU-C
Last update: September 29, 2005