PHANTAZM - SUBWOOFER ENCLOSURE
Enclosure under construction -
Taken about mid way through the construction process. Eight sheets of 3/4" B-C plywood went into the enclosure. It took eight months to construct this enclosure. Why so long? If you look carefully, you will notice that there are no square cuts visible in this box! BTW, Yes I've tried fiberboard, and NO I don't like it, and NO I don't think it sounds better. But, this is not to say it may not be a suitable choice in some instances.
Enclosure ready for installation -
Shows individual sections of the enclosure ready to be put together inside the truck. The enclosure was built in 5 major pieces and assembled inside the shell. Notice the curved sides of the enclosure.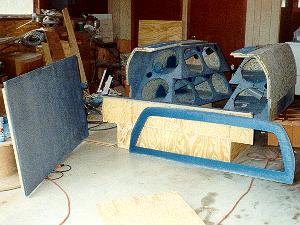 Loading Crew -
This is my father, Harley Davis, and me taking a deep breath before starting the laborious task of inserting the pieces of the enclosure into the truck.
Enclosure installation -
Here we are putting the passengers side cabinet in the truck. The bottom and drivers side enclosures are already in position.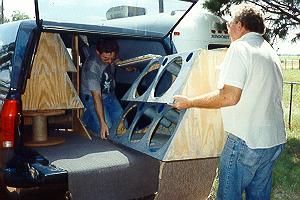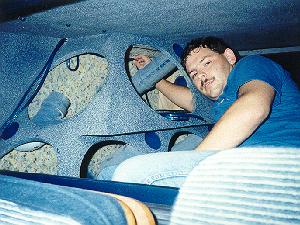 Enclosure installed in truck -
Wiring the enclosure inside the truck. Each of the 16 Zeus 15" subs 4-ohm dual-voice coils were wired in series to make each driver's impedance 8-ohms. Series-parallel connections of each of two sets of 8 speakers were made to present a net 4-ohm load to each bridged HiFonics Colossus Amp. This brought the total output power to the subs to 3600 Watts. I spent several days in this position, and I'm still trying to straighten up.
Enclosure with speakers installed -
Putting the last of the 16 drivers in the enclosure. This task took 3 days. Each speaker has the equivalent of a 3" diameter port tuning the low end of the system to 30Hz. The opening size porting through to the cab was calculated to tune the top end of this series-tuned quasi-sixth-order bandpass enclosure to 72Hz. The inverted driver is wired reverse phase to keep the system phasing aligned.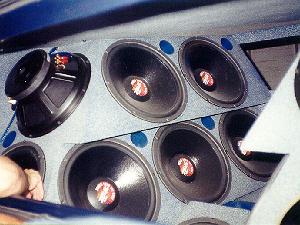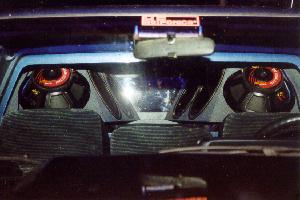 Completed enclosure installed in truck -
View as seen from the front of the truck.
Return to PHANTAZM's Home Page
WebMaster: Jason Lee Davis KB5YBP | E-mail: Jason_Davis@tamu-commerce.edu | Site hosted by: TAMU-C
Last update: September 29, 2005