PHANTAZM
Various Shows & Competitions
1994 Christmas Wish Charity Run - Paris, Texas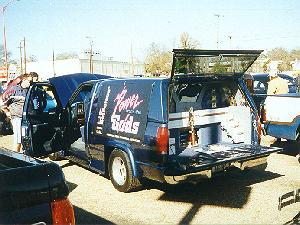 Awarded top two in class plaque at the Christmas Wish Charity Run.
This was the first Car and Truck Show I entered with Phantazm.
1995 Texas Heat Wave - Austin, Texas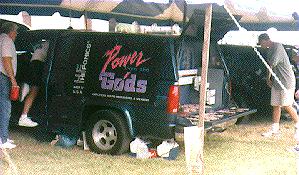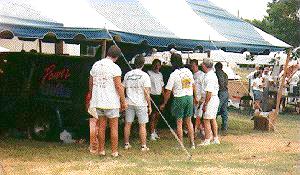 These were taken when I represented HiFonics at the 1995 Texas Heat Wave Custom Car and Truck Show held July 28-30 at the Texas Exposition and Heritage Center in Austin, Texas. The vehicle just to the right of Phantazm is Trey's legendary, HiFonics Blazer, originally created by Gerald Kirkland. This was the Blazer's first show after being rebuilt following the tragic fire on the return trip from the 1994 IASCA Finals.
1996 Texas State Bluegrass Festival - Canton, Texas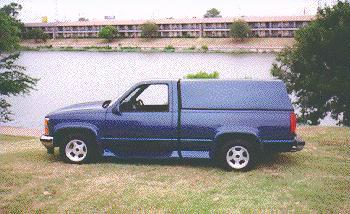 This was taken while I was doing the sound for Joe Smith at the Annual Texas State Bluegrass Festival at the World Famous First Monday Trade Days Grounds in Canton, Texas. Phantazm actually serves as an emergency backup system in the event something happens to my collection of QSC pro amps. There is more amplifier power in the truck than I have to use to play to 5000+ crowds at outdoor venues. Most of the folks in the picture I have had the pleasure of developing friendships with through doing live sound production with my sound company, Shiloh Productions, over the years. You won't find better people than at a Bluegrass Festival. The gentleman to the immediate right of the truck wearing the white baseball cap is Dan Haggard, first cousin to Merle! Dan makes outstanding acoustic bass and guitar mics.
Traffic Jams USAC Car Audio Competition - Stephenville, Texas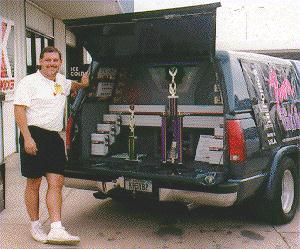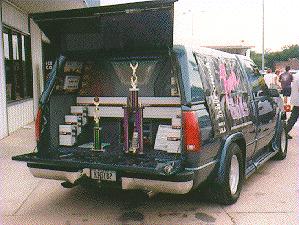 These photos were taken after winning 1st in PRO 1000W-up USAC Regular and 1st in USAC Outlaw SPL at Traffic Jamz in Stephenville, Texas, on August 25, 1996, while demoing for HiFonics at the dealer's promotional event.
1997 Christmas Parade of Lights - Commerce, Texas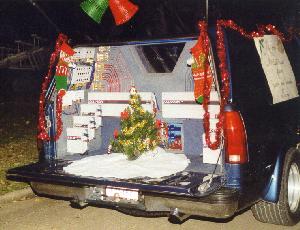 This photo was taken during line-up for the 1997 Christmas Parade of Lights in Commerce, Texas. This has become a traditional annual appearance for Phantazm. -jdavis
WebMaster: Jason Lee Davis KB5YBP | E-mail: Jason_Davis@tamu-commerce.edu | Site hosted by: TAMU-C
Last update: September 29, 2005