Jason Lee Davis' RailFan Pages -
Union Pacific Steam 1999
in Southern Wyoming

The UP Steam Program left Cheyenne, Wyoming for RailFair '99 in Sacramento, California on Friday, May 14, 1999 with the UP 844 & UP 3985 double-heading. The first leg of their journey took them over Sherman Hill on track three and into Laramie for the first scheduled stop.
Enjoy!
Special Announcement: If you missed the westbound trip in Wyoming, you will have another chance to see the UP Steam Team in action as they make the eastbound return to Cheyenne on July 4, 1999.
You may click on the images for larger versions if you would like to see more detail.
TIE SIDING, WYOMING
Union Pacific #844 & #3985 westbound on the downhill grade from Sherman Hill glide effortlessly through Tie Siding, Wyoming on track 3.
...and the Earth shakes.
The approaching hailstorm can be seen to the left of the train.
The hailstorm hit at Tie Siding 5 minutes after the train passed.
(That was cutting it just a little bit close!!!)
LARAMIE, WYOMING
#844 & #3985 West Bound enter the yard at Laramie.
Train set.
End of passenger set.
#3985 in front of the Laramie Depot.
#844
#844
#3985
#844 from above.
#3985 behind #844's second tender.
#3985
#844
#844
#844
#844 being passed by Chicago Northwestern #8705.
Click the images below for video clips of the scenes shown...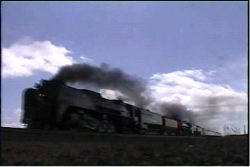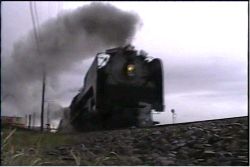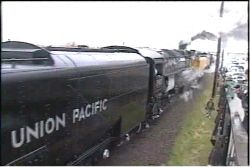 Jim Burrill took some incredible shots on down the line.
I highly recommend you continue the westward journey and view them at
Jim Burrill's Colorado Rails
More of this trip as well as additional UP Steam pics are available at
Jolly Goodfellow's Utah Depot
...on to the official Union Pacific Railroad WebSite.
Page/Photographs ©1999 Jason Lee Davis

Click your browser's BACK button to return to the previous page.
Click HERE to go my RAILFAN Page | Click HERE to go to my homepage.
WebMaster: Jason Lee Davis | Last update: November 23, 2004