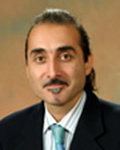 Kurtay Ogunc, Ph.D.
Professor of Economics & Finance
Phone: 903-468-2067
Email: Kurtay.Ogunc@tamuc.edu
Office: BA 250 B
                                Dr. Kurtay Ogunc is an Assistant Professor of Finance in the College of Business and Entrepreneurship, teaching undergraduate and graduate courses in investments, financial derivatives, advanced portfolio management, corporate finance, risk management and venture capital as well as the Financial Economics and Risk Management course for the Executive MBA program. He is the recipient of the 2010 Chancellor's Teaching Excellence award by the Texas A&M University System as well as the first prize in the PIMCO international investing essay contest and a research grant from the BSI Gamma Foundation in Lugano, Switzerland. His research has been published in Review of Quantitative Finance and Accounting, International Review of Financial Analysis, Journal of Behavioral Finance, Investments and Pensions Europe, Global Pensions. Most recently, he was invited to write a chapter for the Handbook of Corporate Governance and Social Responsibility.
                                  Dr. Ogunc has been working as an executive in the public and private sectors over the last two decades, lastly as the Senior Investment Officer for Risk Management and Asset Allocation at the Mayor's Office for Pensions and Investments at the New York City Retirement System with assets under management of over $100 billion. Before he joined the COBE faculty in 2005, Dr. Ogunc was a Senior Researcher and Consultant at Watson Wyatt & Company (now Towers Watson) in Washington, DC for five years. Between 1994 and 2000, he worked for the LSU Foundation and Office of the Vice Chancellor for Finance at Louisiana State University in Baton Rouge as the Investment Manager. In addition, Dr. Ogunc founded two investment advisory firms, namely, Stowbridge Partners, a venture capital firm, which merged with RHEA Investments in 2009, and Alpha Dynamics Group, a boutique multi-manager shop specializing in alternative markets such as FX, commodities and futures.
                       He holds PhD in Business Administration and Master of Applied Statistics degrees from Louisiana State University as well as an MBA in Finance from Western Michigan University. Currently he is working on two monographs; "Flexibility Theory as a Transdisciplinary Science," and "Transformational Asset Management for Institutional Investors."
---