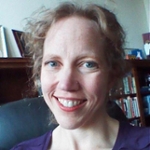 Dr. Karen Roggenkamp
Associate Professor of English
Phone: (903) 886-5251
Email: Karen.Roggenkamp@tamuc.edu
Office: HL 315
---
Fall 2014 Courses
English 2326, Introduction to Literature
Education
Ph.D. in English, University of Minnesota, with supporting program in Journalism
A.B. in English, University of Michigan, with High Distinction and High Honors in English
Research and Teaching Interests
Nineteenth-century print culture and periodical studies
History of children's literature
1930s documentary culture
Selected Publications
Book. Narrating the News: New Journalism and Literary Genre in Late Nineteenth-Century American Newspapers and Fiction (Kent State University Press, 2005)
Book, forthcoming. Sympathy, Madness, and Crime: Newspaper Women and Journalistic Professionalism in Nineteenth-Century America
Book chapter, forthcoming. "Jack London and American Newspaper Culture," for The Oxford Handbook of Jack London
Bibliographic essays, "Nathaniel Hawthorne," for American Literary Scholarship (Duke University Press, 2011, 2012, 2013)
Article. "Elizabeth Jordan, 'True Stories of the News,' and Newspaper Fiction in Late Nineteenth-Century American Journalism," in Literature and Journalism: Inspirations, Intersections, and Inventions from Ben Franklin to Stephen Colbert, ed. Mark Canada (Palgrave Macmillan, 2013): 119-141.
Article. "Reasonable Conversions: Susanna Rowson's Mentoria and Conversion Narratives for Young Readers," Studies in American Fiction 38 (2011): 185-203.
Article. "Richard Wright's Twelve Million Black Voices: Refiguring the American Jeremiad," Langston Hughes Review 24-25 (2010-2011): 138-149.
Article. "Seeing Inside the Mountains: Cynthia Rylant's Appalachian Literature and the 'Hillbilly' Stereotype," Lion and the Unicorn 32 (2008): 191-214.
Article. "Campaigning for the Literary Marketplace: Nathaniel Hawthorne, David Bartlett, and the Life of Franklin Pierce," American Transcendental Quarterly 22 (2008): 365-379.
Article. "Sympathy and Sensation: Elizabeth Jordan, Lizzie Borden, and the Female Reporter in Late Nineteenth-Century Newspaper Fictions and Journalism," American Literary Realism 40 (2007): 32-51.
Article. "The Short-Story Cycle and the Western Gothic in John Steinbeck's The Pastures of Heaven," Steinbeck Review 4 (2007): 19-31.
Article. "Dignified Sensationalism: Cosmopolitan, Elizabeth Bisland, and Trips around the World," American Periodicals 17 (2007): 26-40.
Editorial Experience
Co-editor, American Periodicals, scholarly journal of the Research Society for American Periodicals, 2010 - Present