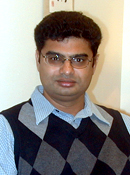 Srinivas Nippani, Ph.D.
Professor of Finance
Phone: (903)886-5678
Fax: (903)886-5601
Email:Sri.Nippani@tamuc.edu
Office: BA 102G
---
Dr. Srinivas Nippani is a tenured, professor of finance at TAMU-Commerce. He received his Ph.D. in finance from the University of Arkansas in December, 1998. His research has been published/accepted for publication in The Journal of Financial and Quantitative Analysis, The Journal of Banking and Finance, The Quarterly Review of Economics & Finance, The Journal of Fixed Income, The Journal of Economics & Finance, Review of Financial Economics, Managerial Finance, The North American Journal of Economics & Finance, Applied Financial Economics, The Mid-American Journal of Business and Financial Counseling and Planning among others. His work has also been presented at various major national and international conferences. His work is cited in several textbooks and leading newspapers including the Washington Post and New York Times. Dr. Nippani is the first winner of the Provost Award for Research and Creative Activity for the full professor level from the College of Business and Technology in 2010. In 2012, he received the H.M. Lafferty Distinguished Faculty Award for Scholarship and Creative Activity from the University. He received an outstanding teaching award at the University of Arkansas Monticello prior to joining A&M-Commerce. He is married to Padma and they have two sons.
---