Ethernet Wiring
Ethernet Wiring using Category 5 UTP (Unshielded Twisted Pair) Cable generally conforms to one of two standards: T568A or T568B. Both standards make use of a 8-position modular jack referred to as an RJ-45 connector. T568A is more widely used and is accepted as the standard for use in home, educational, and most commercial applications.
T568A... The "standard" standard
Straight-thru
The T568A Standard utilizes the following wiring order for a straight-thru cable. This order applies from left to right when viewing the RJ-45 connector from the top side of the connector (latch side down) as shown in the image below. This cable is used between a computer and a hub or switch or between a standard hub/switch port and the uplink port of a cascaded hub/switch. Both ends are the cable are wired identically.
1. Green/White
2. Green
3. Orange/White
4. Blue
5. Blue/White
6. Orange
7. Brown/White
8. Brown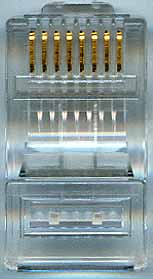 RJ-45 Connector
Crossover
A Crossover cable is needed to connect between two hubs/switches with only standard ports and to form a direct connection between two computers. To implement a crossover, the green and orange wire pair positions are swapped. Thus one end of the cable would be wired just a straight-thru cable as illustrated above while the other end would be wired as follows...
1. Orange/White
2. Orange
3. Green/White
4. Blue
5. Blue/White
6. Green
7. Brown/White
8. Brown
In actuality, only pin/conductor numbers 1,2, 3, & 6 are used for data transmission in 10base-T and 100base-T Ethernet Topologies; therefore, it is not uncommon to see built-up cables only having these four wires.
T568B... The "other" standard
This standard has limited usage. The only difference between the two standards is that the green and orange wire pairs are swapped. Thus, both ends of a straight-thru "B" cable would be wired as the "A" crossover diagram above illustrates.
-Dr. Jason Lee Davis