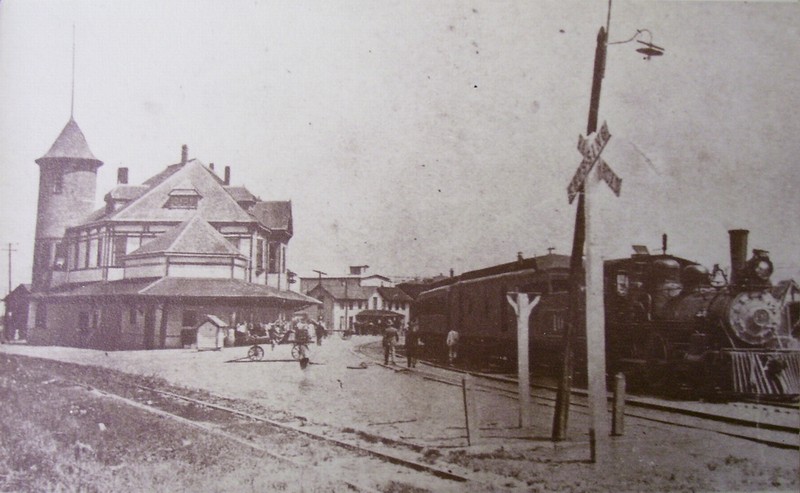 Commerce Union Depot, circa 1912, photo courtesy of Commerce Public Library, used with permission.
In the days of the Cotton Belt and Southern Pacific Railroads, Commerce served as a crew change point located at the joining of the Commerce and Dallas Subdivisions of the St. Louis Southwestern Railway. The former Sherman Branch and the Southern Pacific (former Texas Midland/Texas & New Orleans) Paris Branch also joined the main line in Commerce. The Sherman Branch was abandoned on September 25, 1953. Service ended on the Paris Branch in 1971, following a wash-out. A wash-out also dealt the final blow to the remaining main-line on May 3, 1990, when floodwaters undermined the roadbed between Lavon and Wylie.
In modern-day Commerce, the former Cotton Belt/Southern Pacific trackage is owned by the North East Texas Rural Rail District (NETEX) with engine service provided by the Blacklands Railroad in Sulphur Springs. Around the beginning of 2004 (give or take a few months), the remaining half-mile-or-so of Texas Midland tracks (former TM/T&NO Paris Subdivision) left in town were reconnected to the mainline after a number of years of isolation from the live rails and are currently being used for car storage. The Rail District and Blacklands have done a fantastic job of saving the old Cotton Belt road in this area and rebuilding a viable customer base.
Sherman Branch
(Commerce-Sherman)
Paris Branch
(Commerce-Paris)
April 21, 1979 Ridgeway Derailment
coming soon...
Area Photos by the late Terry Allen Kirkland
SPECIAL EVENT




The Cotton Belt Railroad Symposium
held annually at Texas A&M University-Commerce
Related Links (offsite):
T&NO - Paris Subdivision 1942 timetable - Paris to Ennis via Commerce
SSW - Commerce Subdivision 1954 timetable - Mt. Pleasant to Commerce
SSW - Dallas Subdivision 1954 timetable - Commerce to Dallas
SP - Paris Branch 1962 timetable - Paris to Commerce (former T&NO Paris Sub)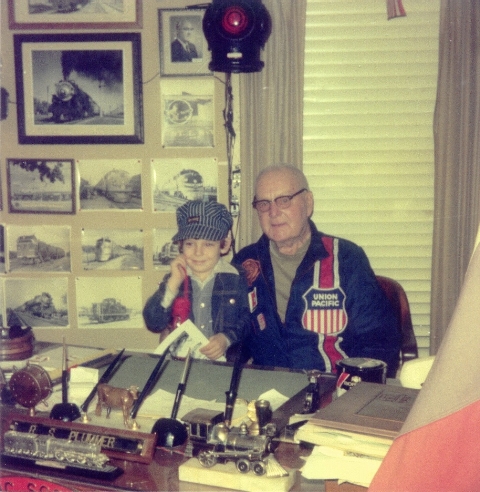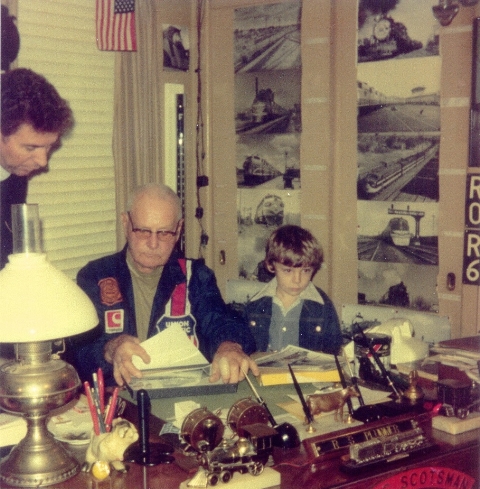 My dad, Harley Davis, and me with Roger S. Plummer at is home/museum in Sulphur Springs, TX on December 30, 1974.
Photos taken by my mother, L. Joyce Davis. Click for high resolution versions.
Page/Photographs ©2007-2010 Jason Lee Davis unless otherwise credited.

Return to the RailFan HomePage
Click your browser's BACK button to return to the previous page.
Click HERE to go my RailFan HomePage | Click HERE to go to my main homepage.
WebMaster: Jason Lee Davis | Page hosted by TAMU-Commerce | Last update: Apr. 16, 2010