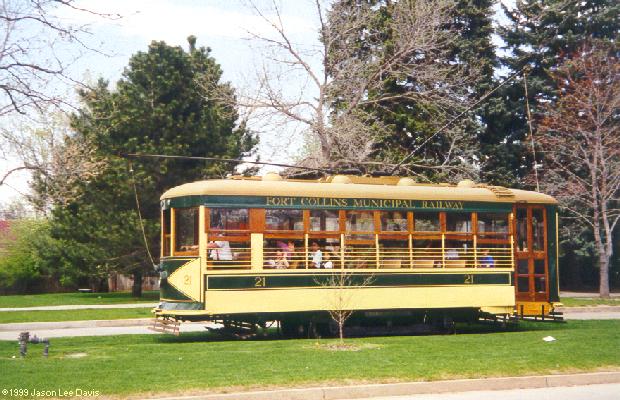 The Fort Collins Municipal Railway Trolley on Mountain Ave. in Fort Collins.
Fort Collins is 65 miles north of Denver along the Front Range of the Rocky Mountains. Both BNSF and UP serve Fort Collins and the surrounding area with The Great Western Railway recently taking over local switching services. The BNSF's mainline along the Front Range runs directly through the middle of town on an unusual stretch of track sharing real estate with a street through downtown. The UP serves the area via a spur off of it's mainline which runs through the neighboring town of Greely. These are my links to the BNSF and UP railroad scene in and around Fort Collins. (more to come...) Enjoy!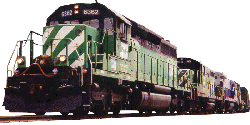 Burlington Northern Santa Fe
Main Street Main Line


Great Western Railway


A list of other locations where railroads and streets run
together can be found at The Lakewood Branch WebSite.
Page/Photographs ©1998-99 Jason Lee Davis

Click your browser's BACK button to return to the previous page.
Click HERE to go my RAILFAN Page | Click HERE to go to my homepage.
WebMaster: Jason Lee Davis | Last update: June 27, 1999