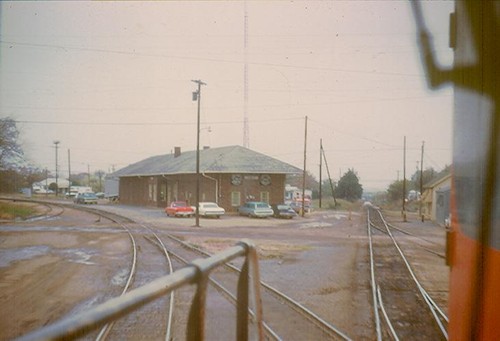 Cotton Belt Depot, Commerce, Texas
Ed Cooper photo | Robert McFatridge engineer
The 8th Annual
Cotton Belt

Railroad Symposium
Sam Rayburn Student Center
Texas A&M University-Commerce
Commerce, Texas
Friday-Saturday, Oct. 4-5, 2013.
The 8th Annual Symposium is scheduled for Friday Evening and Saturday on the first weekend in October.
Friday evening's activities include an informal "Show-And-Tell"/"Mix-N-Mingle." Railroad artifacts and information will be displayed by a number of museums, historical societies, and individuals. If you have items of railroad interest, particularly of significance to the Cotton Belt, you would like to display, please contact Jason Davis so we can arrange for appropriate table or display space. Please note that this is NOT a swap-meet.
The formal event on Saturday will consist of a panel discussion, presentations, a luncheon with musical entertainment, and and other activities to be determined. Audience participation is encouraged.
Luncheon (RSVP required)
A Luncheon, featuring live musical entertainment, is held on Saturday. Advance reservations are required for meal tickets. The deadline to request tickets will be announced upon confirmation of the dates for the next event. Anyone may still join us for the accompanying musical entertainment, with or without a meal ticket. Off-campus dining is available locally at a number of Commerce's fine dining establishments.
Presented by
TAMU-Commerce College of Science, Engineering, & Agriculture
TAMU-Commerce Department of Engineering & Technology
James G. Gee Library Special Collections
Sponsorships Available...
You or your company could appear here and on our printed promotional materials for the next symposium! Multiple sponsorship levels are available. All sponsorship contributions are tax deductable. For more information on becoming a sponsor at one of the levels identified below, please contact Dr. Jason Lee Davis at Jason@JDavis.us or 903-886-8066.
The Symposium Committee reserves the right to decline any sponsorship offer.
Sponsorship levels
Luncheon Sponsorships:
contact Jason for information
Gold Spike Sponsorship: $500 or more
includes gold-level acknowledgement and name/logo on advertising & website
Silver Spike Sponsor: $250
includes silver-level acknowledgement and name/logo on advertising & website
Bronze Spike Sponsor: $100
includes bronze-level acknowledgement and name on advertising & website
Iron Spike Sponsor: $50
includes iron-level acknowledgement and name on website
Past Symposiums