THE 1310: Introduction to Theatre
Course Description
A survey of the fields of theatre activity designed to provide introductory knowledge of all phases of drama, literature, performance, theatre plants and equipment, and production procedures.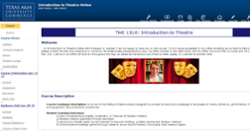 This course uses the eCollege Learning Management System. The semester is broken into six two-to-three week units to cover the audience, playwright, director, performers, designers, and backstage workers. For the online version of the class, lectures are recorded and posted on eCollege, along with other educational videos. Additional PDF readings are provided.
Student Learning Outcomes      
1. Learn fundamental principles, vocabulary, or theories of Western theatre.
2. Develop creative capacities through exercises.
3. Critically apply course material (to improve thinking, problem solving, and decision making).
4. Communicate knowledge gained through research via an MLA formatted, thoroughly cited research paper.