THE 397/597: Puppetry
Course Description
An introduction to puppetry as a global art form. In this class we will explore puppetry techniques and styles from around the world. This course will culminate in an original short form puppetry performance.
Student Learning Outcomes
To develop:
knowledge and awareness of the global world of puppetry.
an ability to analyze, evaluate, and communicate about various aspects of puppetry as an art form.
an examination of the interrelationship that exists between puppetry and the society of which it is a part.
puppet skits, plays, and performances that utilize a variety of puppetry forms and techniques.
Additionally, graduate students will serve as Production Assistants for the Puppetry Festival. These students will develop:
organizational skills related to orchestrating a live performance.
research and research writing experience.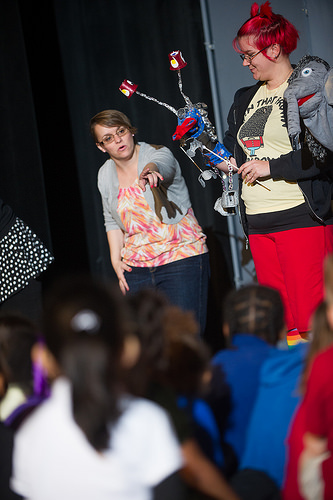 Hear an interview
on KETR
about the class.
Watch the class' filmed puppetry pieces on
YouTube
.