Play Lab
With grants from Let's Play America andIPA/USA, we are hosting two different events: Community Play Day and Educator Play Lab.

Community Play Day TX meets at Northeast Texas Children's Museum https://netxcm.com/ in Commerce, Texas, August 5, September 2, and October 7. Come PLAY - free tickets for teachers and administrators.

Educator Play Lab puts administrators and teachers together in playful learning activities based around open-ended Makerspace type materials and activities. September 16, and Spring 2024.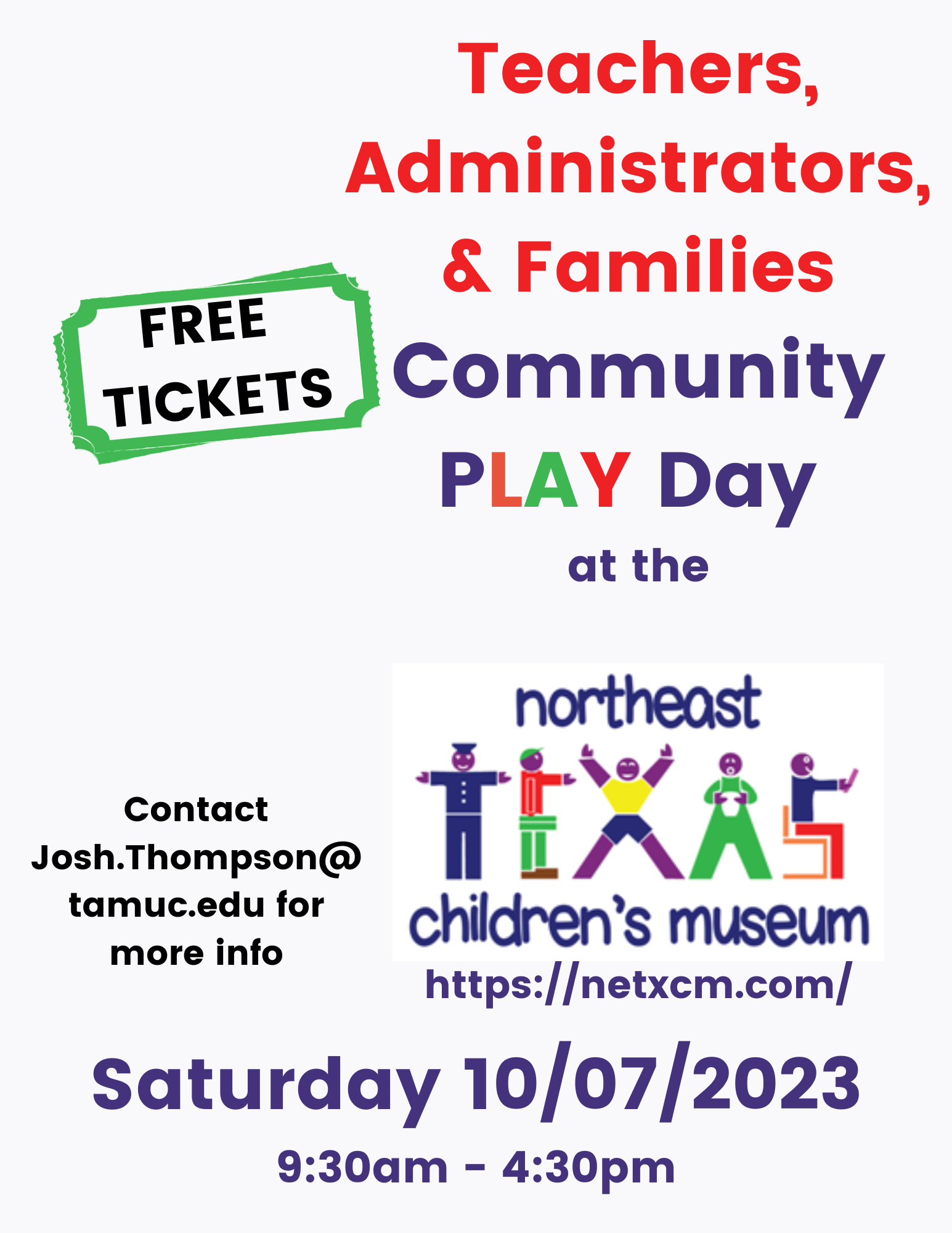 =====
Play Conference in Sicily - Study Abroad May Mini 2023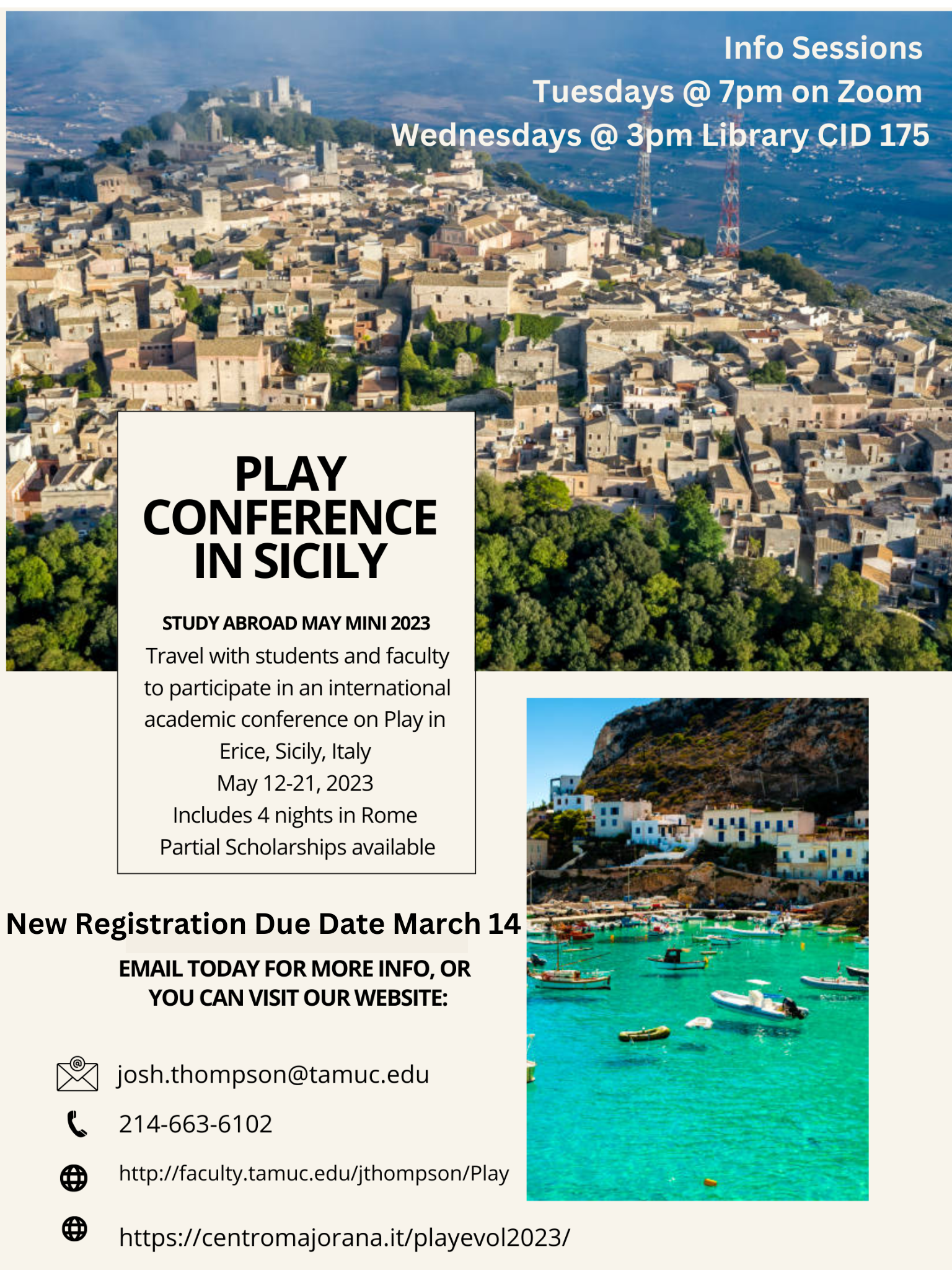 Faculty-led Study Abroad to participate in an international play conference in 
Erice, Sicily, Italy 
May 12-21, 2023 
Includes 4 nights in Rome
https://centromajorana.it/playevol2023/#home
Conference Program .PDF
The purpose of this trip is to lead a study abroad program to Italy for A&M-Commerce students. The program fulfills the goals of our Global QEP and provides students with the opportunity to learn about another part of the world firsthand. This benefits the state of Texas by helping to create a well-educated citizenry that understands other societies.
Estimated Actual Cost of the Trip ~$4,500, includes roundtrip airfare from DFW, ground transportation, housing & accommodations, and most food. Partial Scholarships available
Office of International Program Scholarship
The Office of International Programs welcomes all students who are considering overseas studies to apply to our office-based scholarship. Grants are based upon length of program, but generally do not exceed $1,000 for summer programs and faculty-led programs; $1,500 for programs of longer duration. Apply through this link OIP Scholarship Office.
Global Scholars Scholarship
The Global Scholars Scholarship is awarded to those students who have applied and been accepted as a Global Scholar for the academic year at Texas A&M-Commerce. As a Global Scholar, you can be awarded additional monies that would support a study abroad experience with the Office of International Programs. Global Scholarship Award.
===== ===== ===== ===== =====
Playful Learning Experiences for Teachers
Playful Learning Experiences for Teachers. International Play Association – USA 2022 Annual Conference. University of Incarnate Word. San Antonio, Texas.
https://ipausa.org/2022-annual-conference/
Transforming education begins with watching the child, and how she learns through play. Teacher educators promote playful learning, but often in a less than playful manner. The next steps in transforming education require celebrate playful learning experiences for teachers.
Ramps & Pathways
Zan & Geiken. (2010). Ramps & Pathways: Developmentally Appropriate, Intellectually Rigorous, and Fun Physical Science. Young Children 65(1) 12-17. http://faculty.tamuc.edu/jthompson/Resources/Ramps_Pathways.pdf
Caine's Arcade: Cardboard Challenge https://cardboardchallenge.com/
Photo album of teachers celebrating playful learning https://photos.app.goo.gl/s3mjwzH1wGEHMYoMA
Changes in Texas Teacher Certification, Changes in Course Work @ TAMU-Commerce
Loewenstein, M, Sturdivant, T.D., & Thompson, J. (2022). Learning through play in teacher education. Young Children, 77(2) pp. 44-50. .PDF
Thompson, J., & Pearce, N. (2022). A Toolbox for Engaging Children in Play and Creativity for Learning across the Domains. Dimensions of Early Childhood, 50(1), 37-43. .PDF
Geneser, V. (Ed.). (2022). Scholarly snapshots: The importance of child play as a human right. Rowan & Littlefield.
| | |
| --- | --- |
| Child Development: Early Years | Theories Influencing Child Development |
| Language Acquisition & Development | Play & Creativity |
| Learning Environments | Family & Community Partnerships |
| | Assessment in EC: Assessing the Whole Child |
| Curriculum | Teaching STEAM |
Survey of future teachers' attitudes, dispositions, and beliefs about play in ECE
https://tamuc.co1.qualtrics.com/jfe/form/SV_50FKS85fMXyLbKe

Play as Equity
Social Justice Standards enfused throughout
http://faculty.tamuc.edu/jthompson/socialJustice
http://faculty.tamuc.edu/jthompson/abar
NAEYC (2019). Advancing equity in early childhood education. NAEYC.
NAEYC (2020). Developmentally appropriate practice. NAEYC.
Learning for Justice https://www.learningforjustice.org/
Play in the Contrast between Education and Care
Reimagining Our Work R.O.W. https://exchangepress.com/row/
Care Circles https://sutra.co/circle/r52m8s/content
Provocations: Keep Wonder and Playful Learning Alive in Teacher Ed
Wonderwalks – Katie Boyle and kids explore learning wherever:  https://oxfordwonderwalks.wordpress.com/about/ A story of learning outdoors https://www.instagram.com/reel/Ci7mJl_A4A3/