As an avid railroad enthusiast, I present these pages for others who share an interest in trains and railroading. Additions are ongoing so you are welcome, and I urge you, to check back frequently. I've railfanned all over so you never know just what might show up on my pages. I hope you enjoy...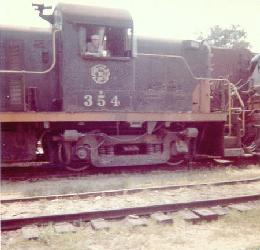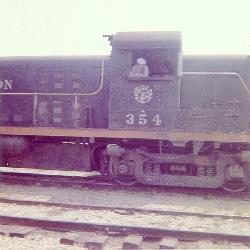 These are pictures of my dad, Harley Davis, onboard SSW RS-3 #354 taken while he was working "The Dog" in Big Sandy, Texas.
"The Dog" was a heavy switching local on the Cotton Belt originating out of Tyler, Texas.
Harley was a fireman on the Cotton Belt 1959-1964.
These photos were taken in 1960 by my grandmother, Estelline Davis. Click the pics for a larger image.

...world's longest unit coal train.


The Cotton Belt Railroad Symposium
Held annually each Fall at Texas A&M University-Commerce


Ed Cooper photo

An event to document and preserve the legacy of the current and "Fallen Flag" railroads and railroad "families" of the Ark-La-Tex-oma region.
All current and former railroad employees and anyone interested is welcome to attend.


Northeast Texas Rural Rail Transportation District (NETEX)
www.NETEXrail.org


Video Gallery
New clips added Mar. '10

See more videos on
My YouTube Channel

The Commerce, Texas Railroad Scene
and the Blacklands Railroad
work in progress

The UP #844/#3985 Steam Double-Header
@ Tie Siding and Laramie, WY
on May 14, 1999.

The 1996 Arkansas Fall Foliage Tour
featuring
UP Steam and Streamliner Motive Power

The Boeing Special -aka- "The Plane Train"
Up close and personal on April 21, 1999.

The Re-Railing of BN 8073 - May 4, 1999
Animated .gif (~868k) of the re-railing
featuring "Crane Strain from the Train" ;-)

Rio Grande Ski Train Summer Excursion 1998
On Sunday, August 16th, 1998 my wife and I had the privilege of riding the Rio Grande Ski Train on a round-trip excursion from Denver to Winter Park, CO. This is an incredible trip and I highly recommend it. All nine pages featuring the August 16, 1998, Summer Trip are now complete and online. Hop on-board for an exciting virtual trip up the historic Moffat Road!!!

Inside the Cab of a Diesel-Electric Locomotive

Fort Collins, Colorado - Featuring MainStreet / MainLine Railroading

CROSS TIES
(Rail Links)

WANTED!
Railroad photos of Commerce, Cooper, Klondike and the North-East Texas vicinity. If you own historical photos of the railroads in this area and wouldn't mind sharing, I would be honored to include them on my pages. Credit will be give to copyright holder. Please contact me for information or send them along with a statement of permission to use them on this site. I derive no profit from this site. I only wish to document the rail history of this area as a service to my community and fellow rail enthusiasts. (If you have photos of actual rail activity at Cooper, Klondike, Horton, or anywhere along the North end of the old Texas Midland line, you would forever be my hero.) Many Thanks! -Jason

The pages on this site are best viewed at 1024 x 768 resolution or higher.

Page/Photographs/Videos 1995-2012 Jason Lee Davis
unless otherwise credited.

Click your browser's BACK button to return to the previous page.
Click HERE to go to my homepage.
If you're trapped in someone else's frames, CLICK HERE to escape.


This Ham Radio Railfans site owned by Jason Lee Davis KB5YBP.
[ Previous 5 Sites | Previous | Next | Next 5 Sites | Random Site | List Sites ]
Want to join the ring? Click here for Info.

The awesome graphics of the small trains on this site are copyrighted by:


Dan Klitzing @ Dan's Depot


THANKS DAN!
WebMaster: Jason Lee Davis KB5YBP | E-mail: Jason.Davis@tamuc.edu | Site hosted by: TAMU-C
Last update: January 03, 2014